About Stern Ingredients India
Makes good Flour even better….
Stern Ingredients India is a joint venture between international Stern-Wywiol Gruppe and Palani Group.
For more information please check the link: www.stern-wywiol-gruppe.de
Mühlenchemie was established way back in 1923 and a member of the Stern-Wywiol Gruppe since 1990, Mühlenchemie is one of the world's best-known enterprises in the field of flour improvement. Mühlenchemie's core field of competence is developing solutions for standardizing and optimizing flours - from classic flour treatment to concentrates for ready-mixed flours. Mühlenchemie puts great effort into maintaining and strengthening its leading position in the market.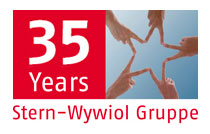 Flour is a natural product and therefore subject to fluctuations in quality. But uniform quality is a "Must" for bakers and millers. At Stern Ingredients India, we are committed to offering customized & intelligent solutions for flour improvement & standardization to our customers.
Our comprehensive portfolio of products finds use in bakery & Flour milling industry.
At Stern Ingredients India we have a culture of innovation, taking that forward we have established "Stern India Technology and innovation Center".
SITIC is the most modern facility in India comprising of Flour & Rheological laboratory and 4 application laboratories.
At SITIC we are constantly developing new, innovative products and functional systems so as to provide our customers with quick & individual solutions.